Office Building Floors, Entrances, Lobbies, Offices and More
Decorative concrete flooring systems are ideal to customize floors with optimal materials. The leading way to design a unique office is to begin with the office building floors. Our materials are modern in appearance and eco-friendly.
The best choice for office building floors are our economically and environmentally friendly concrete floors. Whether it's your lobby, offices, stairs, loading docks, or rest rooms, our large selection of flooring systems let you choose what's right for you.
The adaptability of applying decorative concrete lets you use different finishes within the design for your office building floors. Creating a modern look that will last for years is achievable by utilizing either carpet or hardwood in addition to the concrete floor. The maintenance required in caring for concrete floors is simpler than what is required for other flooring types, making concrete floors the best option for office building floors.
Various Office Building Floors
Reception Flooring
Set your business apart with a unique flooring system customized with your brand that has a high end look and requires minimal maintenance.
Lobby
Make a statement with a unique stained concrete flooring design that includes an overlay stamped with your company logo and other optional design graphics.
Offices
Our polished concrete office building floors are designed with a high-gloss finish. The flooring reflects ambient lighting, which helps with an energy cost reduction in the building.
Conference Room Floors
Foot traffic and scrape marks from chairs, tables and other furniture are some of the many flooring issues typical of conference rooms. Epoxy and polished concrete floors prevent such damage.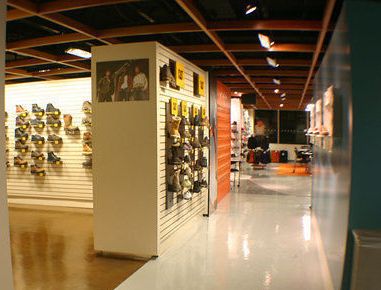 Bathroom
Mold and water damage are common in bathrooms. Our specialized epoxy floors are resistant and any bathroom decor is possible, as we offer a wide variety of tile choices.
Stairs or Exercise Areas
Staircases and exercise areas are regulated by OSHA. A non-slip surface guarantees that your new floors will be in compliance with agency standards.
Kitchen or Break Areas
An easily cleanable floor is ideal for these areas. Decorative concrete offers a floor that is smooth and easily maintained.
Our Top Choices: Office Building Floors
Micro Toppings
Chips and dyes allow us to put color on office building floors for a modern or individual look.
Self-Leveling Concrete
Self-leveling concrete can easily balance uneven floors, negating the need to install an entirely new floor and saving you money.
Stamped Concrete Floors
Choose a flooring system that has the look of stone, tile, or marble but is lower maintenance for your office building floors. Concrete floors can be disguised as any type of material.
Local Areas We Serve
O & E Concrete Design of Ellicott Maryland serves office building owners and tenants in Baltimore, Howard, Harford and Montgomery County Maryland.