Concrete Acid Stains and Decorative Dyes in Maryland
There is no need for lifeless, boring, gray cement when concrete acid stains and dyes provide any floor with an aesthetically pleasing touch. Decorative concrete dyes offer  infinite color options and variations, guaranteeing you a truly custom flooring design.
Using concrete acid stains and dyes, we can create endless choices based on our clients' cosmetic specifications. Natural earth tones hold up to UV rays and can be stained onto Exterior Stamped concrete surfaces. A wide variety of dyes are available for the Interior overlays and skim coats as well. Water-based dyes generally result in softer colors while solvent-based dyes create more vibrant colors.
Concrete Color Options
Self-leveling concrete is applied at ¼- ½ inch thick. Our systems utilize a gray or white base that has the ability to integrate endless colors and use concrete dyes to color the flooring topically. Concrete acid stains and dyes are the artistic medium for creating decorative concrete flooring.  There are several selections for sealing the finalized floor that will intensify the color as well.
Colors and

Concrete Acid Stains

for Self-Leveling Concrete in Maryland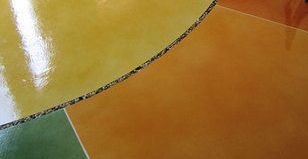 Concrete acid stains and dyes on self leveling concrete and overlays are the ideal approach to creating a decorative concrete floor. These slim coatings range from 1/16 to 1/8 inch in thickness. Two to three layers are generally utilized with integrated colors and topical concrete acid stains or dyes.
The decorative capacity of coloring options is unlimited, as displayed in the images here. Anything you could think of, from classic, seamless, and decorative surfaces to borders and tiles patterns, can be created.
We specialize in decorative concrete flooring applications using concrete acid stains and dyes on residential and commercial flooring in Maryland. Contact us for more information and to schedule an appointment.