If you have a commercial property renovation requirement in Carroll County Maryland, we can help.
We specialize in renovation projects ranging from $5,000 – $2 Million.
Full General contractor services are available to design, build and manage your entire renovation.
We can also provide you with specialized applications including the following:
Concrete Flooring, Walls and Roof Coatings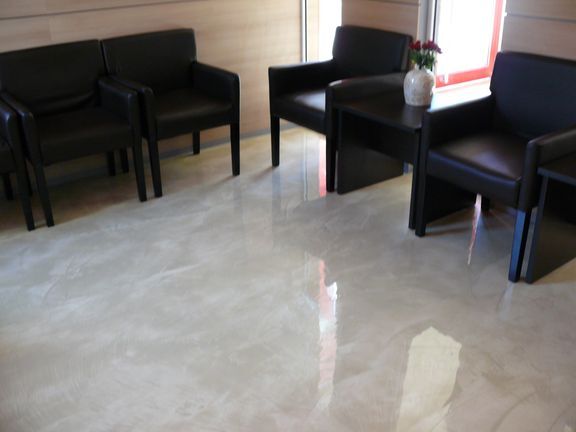 For Concrete Floors, Stucco and Masonry, Contact Brian of Metrocrete Design at (410) 220-6077
Concrete Flooring – Choose from moisture mitigation, polished concrete, self leveling concrete, decorative overlays and epoxy coatings.
Concrete Polishing & Shotblasting – This is a versatile process. The first step is surface preparation. This can include tile, carpet or hardwood removal. Then floors can be shotblasted or grinded to expose a new surface. Then the cement floor can be coated with topical moisture barriers or primers to prepare for a new floor.
Moisture Mitigation Systems – New concrete takes 1-2 years before moisture works it's way out of concrete. If you have a new slab poured, a topical moisture mitigation system can be applied. This typically starts with shotblasting followed by moisture capping epoxy. Then apply a primer and self leveling concrete. Read More About Moisture Mitigation.
Self Leveling Concrete & Overlays – Self Leveling Cements provide a new surface. They are applied at 1/4 – 3/16th inch thick. Ideal for uneven surfaces or ares where high adjustments are needed. They can be colored and sealed with a decorative appearance or serve as an underlayment for tile, hardwood or carpet.
Overlays are thin cementitious coatings applied directly over concrete floors. (There are solutions that can be applied over wood). Options include polished appearance or textured. Overlays are ideal as a new canvas for a decorative final result. They can be sealed with urethanes for a durable, seamless, low maintenance result.
Encapsulating Asbestos Tile – One of the biggest issues with old buildings is the problem faced with old asbestos tile. There are solutions. Primers can be applied directly over tile. Overlays and self leveling concrete can be applied.
Interior Wall Solutions – If you're looking for decorative solutions for interior walls, for restaurants, retail stores or office space, here are some ideas.
Exterior Facades – EIFS which stands for Exterior Insulation Finishing Systems are on thousands of shopping centers nationwide in all states and climates. They will transform the curb appeal of your building. EIFS can be applied over old, steel panel buildings, concrete block, cement and green board. Once the Insulation system is applied, stucco coatings are applied for a decorative appearance. View Gallery
Cultured Stone – Cultured Stone is precast concrete bricks and stone used to create curb appeal of interior and exterior walls for commercial buildings, restaurants, retail stores, hotels, office and medical buildings. Click Here for Ideas
Roofing – Need commercial roofing for your building? Let one of our pros take a look at what you need. Numerous systems are available in all sizes and functional requirements.
Choose the Right Pro for Your Commercial Building in Carroll County Maryland
We provide commercial restoration pros for your project. We serve the entire county. For information Visit Carroll County.
For Answers to Frequently Asked Building Questions about Building Codes Visit http://ccgovernment.carr.org/ccg/permits/Codes.aspx