What is concrete polishing?
You likely have walked on polished concrete. It's in many Home Depot and Lowes Home Improvement stores. Starbucks is another with many locations nationwide using the concrete polishing method for their flooring.
In Home Depot, the floors are gray. In Starbucks, they are acid stained with natural earth tone colors.
You may have seen these floors in retail stores, restaurants, offices and warehouses. Just about everywhere today you find concrete flooring. In fact, you make have seen and walked on polished concrete without realizing it.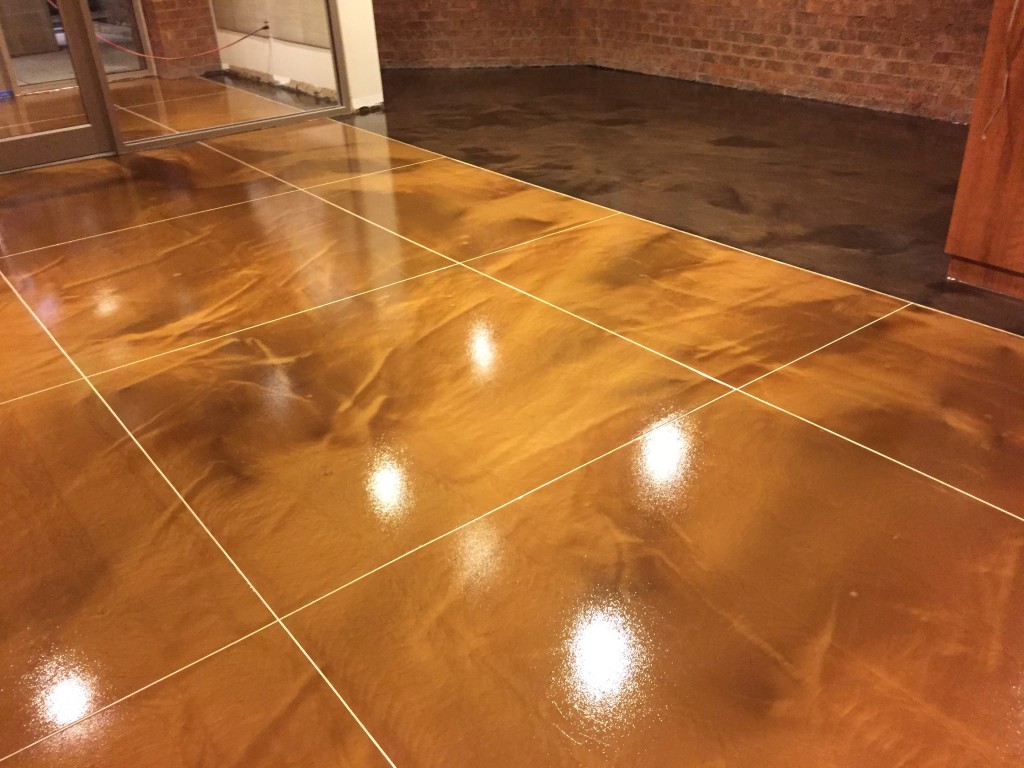 Stained & Polished Concrete Options
15 years ago, the decorative concrete and polishing industry was small. There were a few entrepreneurial contractors who were acid staining cement floors, applying epoxies and polishing concrete. Using the internet, these same construction companies displayed plenty of project photos for all to see. Consumers now had access to a new type of flooring they didn't know existed.
These new floors solved many problems.
Demand created an opportunity for contractors who worked with manufacturers to develop new techniques. The industry evolved.
Where once the process started by grinding and honing the cement floors, today there are many options.
Concrete Polishing – The full process starts by grinding the top layer of cement with heavy equipment. Typically, the first step is using a 25-50 grit diamond pad. The following steps included 80 grit, then 100-200 and 400. At this point coloring can be applied using acid stains and/or dyes. Then apply a liquid densifier that creates a chemical reaction that tightens the pores. The next step would be to hone the surface with an 800, 1,500 and even 3,000 grit pads. These levels create the shiny polish.
Grind and Seal – This is similar to the above process. However, rather than each step, after the 100-200 grit level, the floor can be acid stained or dyed then sealed. High performance urethanes are frequently used. They penetrate the pores in the surface with the first coat, followed by a high performance result with the 2nd or 3rd The process is typically quicker, less expensive and more predictable than the process from paragraph 1.
Polishable Overlays – Not every floor is an ideal candidate for polished concrete. Frequently, there are issues that can prevent a predictable result. This could be caused by soft or extremely hard. Sometimes the floor was poured years ago using different batches. Avoiding issues is achieved with application of polishable self leveling overlays. These are typically poured ¼ – ½ inch thick. Color and pattern options for overlayments are unlimited. Sawcuts can create the look of custom tile.
Metallic Epoxy – Many people look online at various sources of photos not sure exactly what the finished product is exactly. Some think a polish is just a shiny surface. Sometimes people look at a metallic epoxy and think they're standing on Chicago polished concrete floors. Metallic epoxy, or as some might call it resinous liquid flooring, is another alternative.
O &E Concrete Design Concrete Polishing Contractors in Maryland, Washington DC & Virginia
We are based in Ellicott City near Baltimore serving commercial, industrial and residential customers in Washington DC, Maryland and Virginia.
Looking for a solution? Contact us today.