O & E Concrete Design is a decorative concrete and epoxy installation company servicing commercial and residential customers throughout Fairfax County Virginia.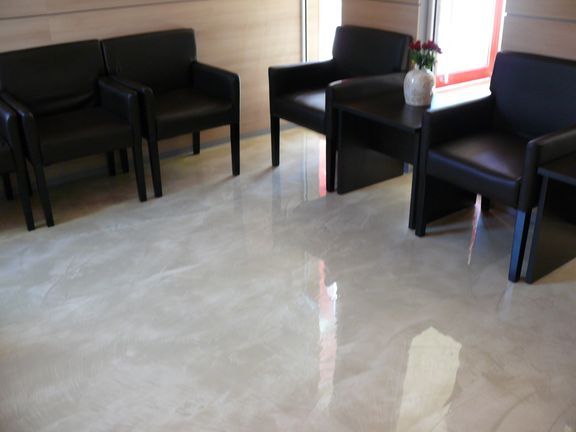 Types Of Epoxy Coatings We Install
Commercial Kitchen Resin Systems – There are a variety of options depending on your need and budget. We install industrial epoxy, high build systems that withstand heat and cold changes due to ovens and hot water high pressure cleaning. Each area of a kitchen can require a different coating. For example, we have solutions for freezers, food prep, fry lines and restrooms.
Pharmaceutical Flooring – Epoxy flooring options include specific coatings for labs, wash areas, solvent storage, data centers, loading docks and more. We can also provide you with wall coating applications.
Healthcare Epoxies – Let us help you choose the appropriate coating for your healthcare facility. There are numerous options available for labs, operating rooms, chemical containment, loading docks and more.
Industrial Facilities – Choose from basic thin mil systems to high traffic coatings. These can range from 15 – 60 mil or more. Broadcast systems include sand, quartz and color flakes.
Garage Floors – Garage floor coatings require ability to withstand heat from hot tires and petroleum leaks. 100% solids with high performance urethanes and polyaspartic systems are available.
Metallic Epoxy – These are highly decorative unique systems like in many of the images you see here. They can be used in showrooms, restaurants, retail stores, basements and other areas where a decorative finish is required. They are non slip, seamless and low maintenance.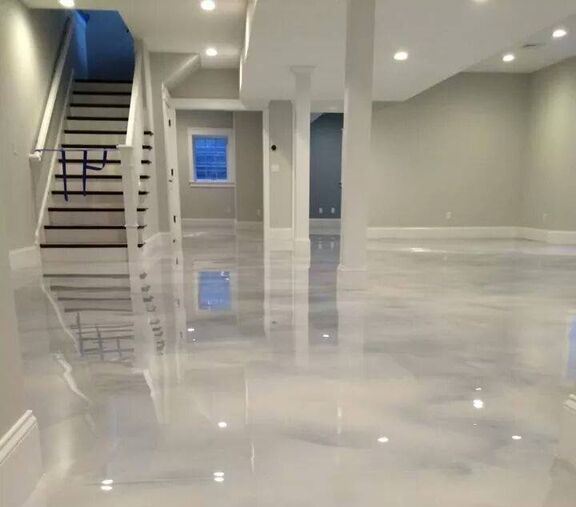 Other O & E Concrete Design Flooring Services
Moisture Mitigation Vapor Systems – If you have new concrete, we have systems that will contain the moisture vapor. Typically the process begins with shotblasting followed by a moisture capping 100% solids penetrating epoxy. Then we prime surface followed by application of self leveling concrete. This serves as an underlayment for tile, carpet or wood flooring.
Self Leveling Concrete Overlays – We apply at 1/4 – 1/2 inch thick. The result is a smooth finish that can be decorated with integral color, stains and dyes. Water based sealers and urethanes can be applied to protect the surface.
Microtoppings – These are thin, decorative coatings applied with integral color, stains and dyes. Saw cuts can be used to design with appearance of custom tile.
Concrete Polishing – There are numerous options here including grind and sealed concrete or polish as high as 3,000 grit. Choose from matte to high gloss finishes.
Concrete Stamping – As a concrete company, we have completed projects of all sizes and finishes. Choose from broom finish or custom stone and brick patterns.
About O & E Concrete Design
O & E Concrete Design is the decorative division of Oertel Engels. We have been in business for over 40 years.
We have completed many projects throughout Fairfax County Virginia.