Pool Deck Installers in Ellicott City Maryland
Artistic concrete design for interiors and exteriors is our business. The photos of the pool deck featured here tells part of the story. Anything can be designed and built using decorative concrete. What we offer is not just the construction and design of your pool deck but an overall balance of function and design.
The design featured here is a combination of stains and dyes with decorative graphics making this a one of a kind project. However the design flows naturally with the home and property.  As decorative concrete artists, that's what we provide to our residential and commercial customers.
In addition to creating sensational pool decks, we are outdoor kitchen builders as well. We can design and build the entire project including decorative landscape lighting while working in conjunction with your landscape team.
Exterior Elements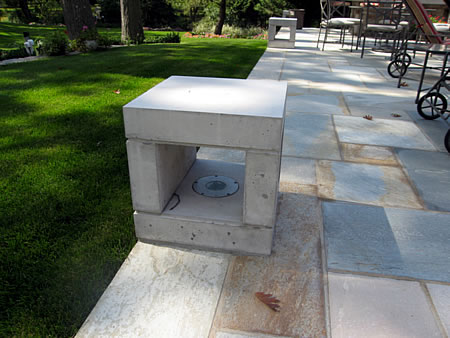 Along with you decorative pool deck, we can provide you with custom concrete countertops, sinks and landscape accessories such as benches, tables and tile. The options are endless. In fact , we can even design and build tables with speakers and lighting built in making for an extraordinary outdoor living experience. The concrete box built here is part of 8 that surround a patio and pool deck. They are approximately 2 foot cubes with speakers and lighting. The sound projects clearly off the hard concrete surface while the lighting is controlled on dimmers.
The cubes match the outdoor kitchen counter top which is 4 inches thick. The concrete countertop is a natural with the granite fireplace.
The beauty of concrete is that it can be shaped and molded into anything you desire.
Pool Deck Installers in Maryland- Areas We Serve
We are based in Ellicott City Maryland and provide interior and exterior artistic concrete and pool deck services to residential and commercial customers in Baltimore County, Harford and Carrol Counties, Montgomery and Howard County.