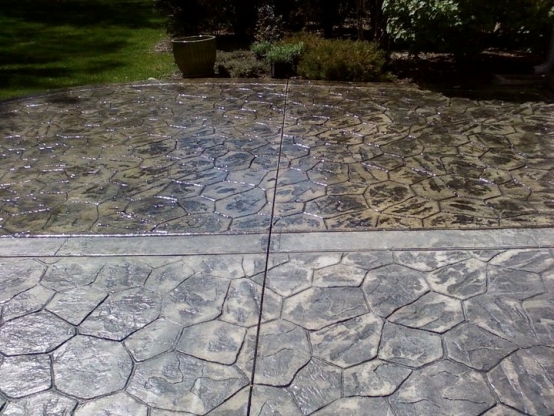 Stamped Concrete Sealers in Maryland
Sealers for Stamped Concrete wear down just like on wood decks. Rain, snow, sun, foot traffic all have a deteriorating effect. With regular maintenance and reapplication of 1-2 new seal coats every few years and your stamped concrete surface will maintain that new look and restore the color.
If your deck, walkway or driveway is not recoated every few years it will expose your concrete to the elements. Once that happens the surface will look dirty and start absorbing mold and mildew. If your surface looks black this is why. Concrete is a porous material. When not protected, it just doesn't look good. Now you have a restoration project. The good news, though more costly then a clean and reseal, your surface can be restored like new.
In fact, we can change the color of your stamped concrete if needed. Your surface is gray? We can turn it into a natural brown earth tone shade. Tired of brown? We can transform into  gray. There are many options for maintaining or restoring your stamped concrete pool deck, patio or driveway.
The best first step is to give us a call and explain the history of your stamped concrete. What is the size, color, pattern and last time it was sealed?
If you have photos you can send us that will be helpful. We can generally give you an approximate price over the phone but there is no substitute for actually seeing and examining the surface.
In many cases we can clean and reseal in 1 day. You can use the following day but we do recommend a full day to cure for stamped concrete sealers for pool decks, patios and driveways. The best long term solution is proper maintenance. Typically new seal coats should be applied every 2-3 years.
Stamped Concrete Sealers – Local Areas We Serve
We serve clients in Carroll County, Baltimore County, Howard County, Montgomery County, Harford County and Anne Arundel County.